Recently I visited the Virgin Records exhibition
'40 Years of Disruptions'
currently being held for a short time (blink and you will miss it – certainly by the time this blog is published it will be history) at the impressive Victoria House in Bloomsbury. Celebrating 40 years of Virgin Records, the exhibition covers much from the label's back catalogue, including of course material based around Mike Oldfield's Tubular Bells and a section celebrating the Spice Girls and Girl Power. I have to admit to some disappointment as I walked round that perhaps my favourite Virgin artist, the group
XTC
, were criminally overlooked - although some digging around afterwards revealed there actually was some video footage of them in the Manor Recording studio shown that I unfortunately missed, although I have since found this on youtube, part one of which is
here
, and the rest are easily found.
Unsurprisingly, a large proportion of the exhibition is given over to the punk and post punk period, and in particular the work of the Sex Pistols. There are T-shirts from Vivienne Westwood's shop
Sex
, assorted badges and some great examples of the work of
Jamie Reid
who provided the artistic backdrop for much of the Sex Pistols' work. One example of this took centre stage at the exhibition, literally, in a
pop up recreation of the original Virgin Records shop
, resplendent with bean bags and hundreds of copies of the Sex Pistols' debut album 'Never Mind the Bollocks', and nothing else, on show.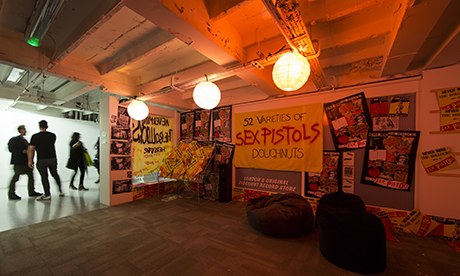 This is an allusion to a key 'disruption' in the Virgin Records story, and of the attempt to censor the album. The subject matter and lyrical content had already been deemed problematic with previous singles such as
God Save the Queen
subject to much approbation, released as it was to coincide with the Queen's Silver Jubilee and contentiously denied the number one slot in the singles chart by Rod Stewart's
'I don't want to talk about it'
, despite allegedly outselling it. However, when Richard Branson instructed his shops to blitz their windows with a display based on the album sleeve and title, the police became very interested, threatening him with various charges including one under the
Vagrancy Acts
. Eventually one of the shop's managers was arrested and charged under the arcane
Indecent Advertisements Act 1889
. Branson instructed
John Mortimer QC
to defend, and his arguments centred on calling a series of expert witnesses including an English professor to explain the etymology and meaning of the offending word, 'bollocks', and that it had in fact been used as a term of endearment used amongst clergymen, and won the case.
Whilst Never Mind the Bollocks gives a neat example of one form of attempted musical censorship, I was very taken with another different form, tucked away in a far corner of the exhibition, and involving a different type of professor. Here was a letter written by a young fan to
Professor Green
asking him very politely if he would consider refraining from swearing on future releases so that the boy's father would allow him to purchase the Professor's wares. It may not be the law, but there are lots of ways that access to music can be restricted, and access disrupted.